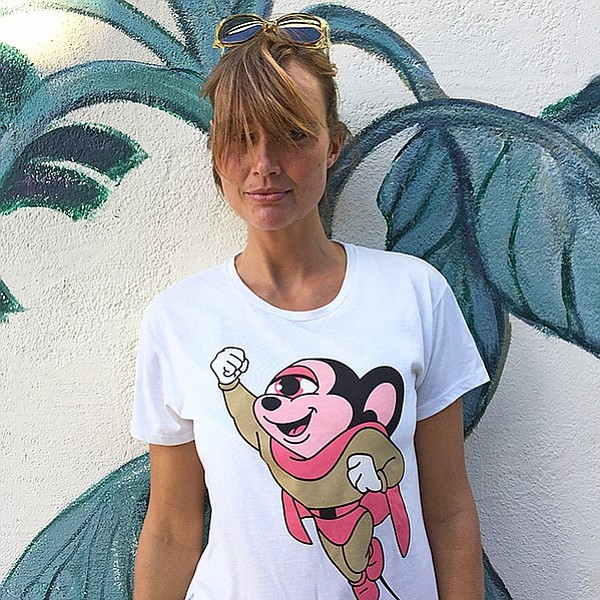 In Heroes We Trust
Neely Shearer carved a niche in Los Angeles fashion by running independent boutiques such as Xin and designing dress lines with a Japanese pop inspiration and a rock 'n' roll edge, such as Issho and Parade by Neely Shearer.
Parade is still going, but Xin closed and Issho folded in 2009. For Shearer's next act, she will be slipping into T-shirts.
Shearer recently introduced the T-shirt line In Heroes We Trust, which shares a name with the boutique she opened in July 2014, just off of Los Angeles' high-profile Abbot Kinney Boulevard. For the T-shirt label, she worked with several Los Angeles–area street artists to make the In Heroes We Trust line and to give these artists a walking billboard.
For the new line, wholesaling from $26 to $46, street artists Chase, Wrdsmth, Teacher, Isabelle Alford-Lago and Diana Garcia were given the assignment of doing an image of someone or something that inspired them.
Wrdsmth drew the words "Let It Be" wafting out of a typewriter, which was inspired byThe Beatles. Chase, who has painted murals all over the Los Angeles area, made a graphic of the Mighty Mouse cartoon character with a Cyclops eye.
For an image that is not a parody, Chase also made a graphic of hands forming a heart. Another muralist, Alford-Lago, made a picture of Mexican artist Frida Kahlo as a primate.
The images were placed on a variety of T-shirt bodies—all made in Los Angeles. Some of the bodies were given extra fashion panache with details such as slits on the side and stitching.
Shearer hoped the images would inspire people to think of their heroes and how they can be better versions of themselves. "We don't have to rely on gatekeepers anymore," Shearer said. "We are able to take control of our destiny."
For more information, email neely@inheroeswestrust.com.